The Columbia Gorge Hotel
When George Benson was building the first Columbia Gorge Highway, he evidently wanted 2 things: A place to drive his new Ford, and a nice hotel to stay in at the end of the road. Since he was building his own road, he necessarily had to build his own hotel. This he did at the end of the most scenic part of the gorge right above a convenient thundering waterfall.
Our room is that second floor one around the corner
My Kayak partner is a member of a professional organization that has frequent trainings and other conferences. I get to go along and play the role of the beautiful spouse. Yes, I have a costume. Anyway, this leaves me doing engineer work (and perhaps some blogging) from some number of hotel rooms and lobbies.
This week, I have set up my little blogging station in the dining room of the historic Columbia Gorge Hotel, right at the Western edge of Hood River, Oregon.
When we checked in the nice lady at the front desk said we were lucky to have a very nice room. I was a little suspicious that she might say this to all guests (and why not?) until we opened the window of our room. We have a beautiful view of the river, and a corner room, but the big bonus is that right under our window are the Falls. And these are not some little falls either, This is a really large thundering waterfall. With a name and everything, something like win win mah falls. Why haven't I ever heard of these falls before? I am suspicious it is because you can't really see the falls from any place except the hotel, or down on the river. We are up on a big cliff here. Down at the base of the cliff is the railroad and the river and not much else. So you can see it from River. And perhaps from Washington. But there are no good views from Oregon. Still, I need to do some research.
This place is on the historic registry for the US and it certainly has all of the quaint little things you might expect to find in an old building that has been updated. There is a pretty good size surrounding garden and paths complete with a swift running stream (which later runs over that waterfall). I think it rare to find a resort with a water feature running through it that is a real stream, as opposed to a recycled pumped water thing. Right now, with all of the recent rain, the stream is high and the water is loud. We admired the little funny hair ducks and the pert nippled statuary. What is it with hotels and nipples these days?
And a River runs through it
We went into Hood River (That is a town name) to wander around and find dinner last night. Lots of Brew Pubs and wine tasting. We ended up at a place up on the cliffs called Horse Feathers. Good Beer, Good Service, and the best food presentation I have ever seen at a brew pub. The place was also empty. My Partner says it is because the town makes it's money off of fun hogs and they are not around until the wind surfing seasons starts a little later in the year. I got the term 'Fun Hogs' from my partner. These are people (usually men) that would rather do intense outdoor athletics (like backpacking and kayaking and wind surfing) than get a real job. "Great guys to hang around with and to date, but not so good to raise a family with". We engineers are, presumably, the opposite. Great guys to raise a family with but not so much fun to hang out with?
I think this may be a good place for my Editor to add some comments about wind surfing.
What else is going on at this place?
I guess it is something of a Wedding Location. There are a couple of places outside that look like they would be nice to stage a wedding. And there are a LOT of unconnected white mini Xmas lights all over the place. Like they could really light the place up with fairy lights when they want to. Though I am suspicious that they would have to string a lot of extension cords out to the lights and then find out that a lot of them are not working since the last time they were plugged in.
There was a local wine tasting event going on while we were there. It seemed to stretch on for a few evenings and consisted of over 1000 bottles of wine in the ball room setup on doors on saw horses. 10 to 20 people a night would come in and wander around the tables for a few hours. Must have been a lot of tasting going around.
Ever see 100 bottles of (mostly open) wine?
There is an antique elevator right by the check-in desk. You call it with a buzzer and then one of the staff will hop in and drive it up to you. Everything is hand operated and it has one of those elevator controls that you can tell is just power to an electric engine somewhere to make the car go up and down. The staff have to aim the car at the threshold to make sure and not leave too big a gap to trip over. Pretty fun. But they wouldn't let me drive even after I assured them I had a Master's Degree in Electrical Engineering.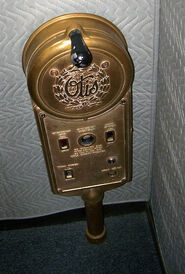 Sort of like this shot I got from the Internets.
This is daffodil season. The daffodils are putting their yellow color all over the gardens around the hotel. You can see some places where the flowers have escaped the garden, past the wrought iron fence and right over the cliff. There is yellow blooming down there on the cliff side.
You will find daffodils growing in strange places around Oregon. Out in the woods you can find a little clump. I have this theory that they are growing at what once was some settler woman's front door. She planted them there a hundred years or more ago. She is gone. Her children are gone. Her house is gone. Perhaps the entire little settlement is gone. Gone the way of lumber towns once the big trees are gone. But the daffodils are still there. Still popping up every spring to have a look around and wonder where that woman and her family went.
Daffodils escaping down the cliff side
Saturday morning, before venturing out to do some local hiking, we ate a very pleasant breakfast at the hotel. My partner ordered a Scone. We were told that the scone came with "Honey from Heaven" and would we like that? Having no idea what it was, of course we said we would love it. The waitress brings the scone to us along with a gravy boat of honey. She pours the honey onto a plate from way up high, just a little stream. As she does, she tells us this story:
"Have you seen that wonderful waterfall on the north side of the building? That is the Wah Gwin Gwin waterfall. The name means falling water and rocks and was also the name of an Indian princess. We pour the honey from the sky in memory of the princess and to tell the story of the waterfall. This is the 6th largest waterfall in Oregon and the only waterfall that is privately owned. All of the others are state property, but this one was grandfather in as private property by George Benson when he built this hotel. Notice the nice stone work out back? Benson used the same Italian stone masons that did the walls and features for the old Columbia Highway. That is why the stone work looks the same as you would see at Multnomah falls or other rest places along the old road. The Steam Paddle boats on the Columbia also had the hotel as a destination stop. They would pull up at the base of the falls and blow their whistle to signal how many rooms should be made-up for passengers disembarking."
Wah Gwin Gwin and Princess
Very nice story. Though it does seem that all waterfalls are named after indian princesses who had the word "Water" in their name.
The breakfast at the Hotel is pretty great, by the way, and very reasonably priced. We had very nice seats overlooking the river. Perhaps it is more crowded once the season starts up.