Jet Lag
When you fly to China you leave the US on a Friday Morning and you get to Shanghai on Saturday evening. You have probably been up for like 24 hours by the time you reach your hotel and if you are lucky you can stay up for a few more hours until it is like 9:00pm local time and then sleep through the night and magically avoid all vestiges of Jet Lag.
No one is lucky.
Well, no one is that lucky. My partner and I did manage to get TSA Precheck. Both of us. That means we both get to go to the "no line" line and pass through the "don't have to undress" scanner. Usually they only give the precheck to the father traveling with a large family so they can watch his actions. Either he will curse when he finds that his family can't pre-screen with him and then stay with his wife (all the while bitching) or he will go through without them and never sleep in his bed again. Either way, the TSA agents win. My partner and I had purchased our tickets separately, thus foiling their evil scheme. We also ended up with an empty seat in our 3 seat section. Heavenly.
But as far as Jet Lag, upon getting to our hotel room on Saturday night, my partner and I did sleep pretty much through to 7:00 am local and so we found ourselves awake but very groggy in our very nice hotel room looking out on a dark Shanghai morning. Breakfast is included with our stay here at the Shanghai Marriott Hongqiao and I predict that this breakfast is going to be a very serious daily affair. Something that will challenge my virtue and my waistline. Man o man there are a bunch of yummy things down there. Some memories: little pancakes and waffles with fun fruit toppings, make your own sandwiches with fresh vegetables and salmon, assorted fresh made pastries, a small selection of Chinese dumplings, noodles, rice and pork, eggs, tea eggs (chicken eggs boiled in black tea), roasted tomatoes, a ramen bar (I say ramen, but it is probably a local Chinese equivalent), cereal, fresh loaves of bread, good coffee, salad, bagels and locks (didn't see cream cheese), and a tap that looks just like a beer tap and says "Tiger" on it coming out of a large dispensing unit. It looks like Beer. But I am guessing that it is filtered water. Never did try it. Lot's of yumminess. Fortunately there is also a very nice gym here. Unfortunately, I don't seem to be able to download any Amazon video content from here, so how am I doing to spend on hour on a machine when I can't watch a free episode of "Rome" on my Amazon Fire?
After breakfast we escaped out to the streets in search of minor adventure, orientation, and a market. The market we were directed to turns out to be a (wait for it) WalMart. Only about a 10 minute walk to get over there. This is a Sunday and the streets are not too crowded with cars. I had expected to be seeing a lot of scooters like we had seen in Taipei. There are a lot of scooters, but nothing on the scale of Taipei. Instead the light transportation of choice that I see is the electric scooter or electric bicycle. There are a lot of styles to choose from but none of them have I seen in the US. The most common looks like a classic euro moped. The bike has been lengthened a little to accommodate what looks like standard car batteries slung under the carriage right below where your feet rest. This seems like a very reasonable construction method as it takes advantage of the car battery market and would certainly make the things much cheaper. In the US, the electric bicycles all have special ultra-light and ultra-expensive batteries built into the frame of the bike making the things pretty much cost prohibitive for a lower middle class person. Here, it looks like they just might be cheap. When I have internet again I will try and back research. (My Shanghai friends say, "starting around $200 US")
What are other defining characteristics of the city? We were warned about air pollution on our way over. I got everything from "You need a mask" to "Oh, Shanghai isn't that bad". If Shanghai isn't that bad then I doubt that I would be able to do Beijing. The fog (or something) has rolled in and now when I go outside I notice that everything sort of smells like you are walking into a smokey bar. But I don't think it is tobacco I am smelling. And going out into it for an hour made me nauseous.
Certainly the biggest and strangest Walmart I have ever been in. The bottom floor of the 4 story building was dedicated to lots of independent shops. Clothes for children, Comic Book store, and a few jewelry stores. But these were sort of schlock jewelry stores. They were selling jade bracelets (mainly). There were 3 or 4 of them and they were these sort of booths sitting out in the middle of the mall shops. Like the kind that might be selling smart phone chargers back in the states in the hallways of the local Mall. So OK, Jade bracelets. How much could they be? I looked at one display case that maybe had 50 or so of the bracelets on sale. I saw the price and did the math. Had to do it twice because I had convinced myself that I had added a zero in there when I converted to dollars. Nope. $1200. Holy moly, I have never seen anything so expensive marketed in such a strange fashion.
The view from the Maglev is also interesting. The monorail-like elevated track passes through what seems to be a debris field of trash and torn apart buildings. Things that probably shouldn't be inhabited in an area where no one in their right mind would want to raise their one child. But there it was. I am sort of surprised that China built an obvious technological show piece like the Maglev and then surrounded it with examples of cultural failure.
Hey, want to watch the 6 minute Video of the ride back from the Airport?
Downtown (don't wait a minute more)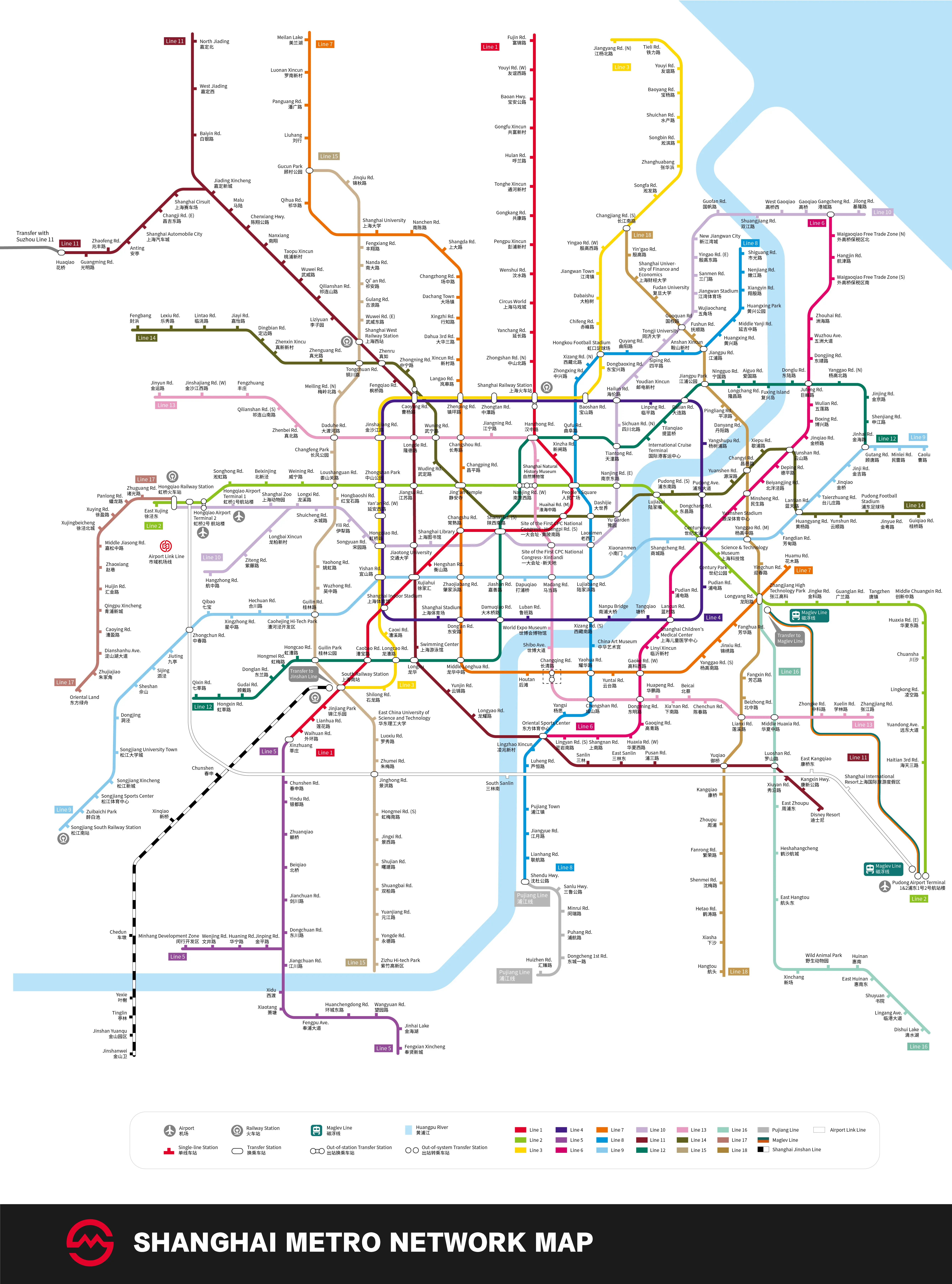 10 years ago, there were only 2 subway lines.
BKM for River Ride
Follow the BKM on getting a Metro card and learning the Metro.

Take the Metro to the Nanjing road (east) stop.

Gasp and take a picture of the TV Tower.

Go up the escalator to the skywalk.




Head clockwise around the circular skywalk generally toward the Radio Tower. It is quicker to go anti-clockwise, but you want clockwise. Trust me.




As you pass the "Super Brand Mall" realize that you really need to use a bathroom. You won't find any bathrooms further on nor would you have found them if you had gone clockwise. In fact, if you had gone clockwise you would have:

Gone to the base of the TV tower and found that the rate was too expensive.

Inquired at the little Tourist Information shop about actual prices.

Found a very enthusiastic young woman eager to practice her English.

Had the following conversation:

Can you tell me where a restroom is?

You are tired? You need to rest?

No. A washroom. Where is a washroom?

You need to wash your hands?

Urinate? Hmm. Urinate. I don't know that... oh oh. You need a toilet !!

Oh, no toilet here. You should have read the BKM and gone clockwise around the skywalk. So sorry.

You might spend some time ruminating on how an English student might learn the word "urinate" but not learn the American euphemism "bathroom".

Upon entering the Super Brand Mall veer to the right and go must past Malco Marco (or some similar store) and turn right into the restroom area. I mean, the washroom area. I mean, the Urination Facility.

At this point you could wander around the mall a little. If it is near New Year (and by that, I mean Chinese New Year, which, in China, they call New Year) you will see a lot of gold and chocolate. In fact, it looked like there were young women dressing up as dancing gold chocolates, but I digress.

The Bathroom is to the left

Inside Super Brand Mall (Notice the wigs, everywhere)




Exit the mall by whence you came and continue your clockwise orbit of the traffic circle. Go back down to street level as if you were headed to the Radio Tower (hey, stop by and say hi to the enthusiastic English speaker). At this point, you are walking down the street with the radio tower to your right. You are headed toward the river. (Careful, you are on a Peninsula, many ways go to the river) Editor's note: Actually it was more of a curve in the river, which really messed up Jon's internal mapping system, which is almost always very accurate, and drove him a bit crazy on this trip. I have no such mapping system, and thus can revel when his doesn't work, as long as we aren't out lost in the snow.

Pass the Insect Museum (evidently like an aquarium only more creepy) and go through a little traffic barrier and you are at the River (even if you can't see it). The building in front of you looks like a big stretched piece of canvas. It is right next to the building with the two giant globes. There is a booth out front to buy tickets and a reasonable little restaurant across the street (Julie's) to grab some lunch. Hey, there is a good bathroom in Julie's also.

Buy your tickets. Show up early for the ride. Get a seat on the Starboard side of the boat so that the things you see will be in sync with the pre-recorded descriptions.




Here are the cool things we saw. Mainly nice views of the city skyline

Inside our cruise boat

There are hundreds of these little barges. They seem to have family dwellings on the stern.

No Idea. Yet.




The aforementioned tent building (tour terminal) and the Globes

Part of the Famous Bund. Lots of Old Buildings. Underwhelming.
Pearl Markets
One Child Policy
Bathrooms.
Yuyuan Garden